Many who know me would call me a "dog person"… but the reality is, I love all animals. I have had a few cats over the years and one wasn't the best at drinking water which complicated a number of health issues. This contributed to crystals in his urine, infections and ultimately complicating a diagnosis of diabetes. When we got Kyo I decided there were things that I would do differently – let's face it – a lot has changed in 25 years! Two things would be right off the bat… first, I made sure that I had pet insurance for Kyo and the other was to look into a water fountain for Kyo… anything to help prevent what had happened in the past.
Some of the links in this post are affiliate links. This means that if you click on the link and purchase the item we will receive an affiliate commission at no cost to you. All opinions are my own.
Benefits of using a Cat Water Fountain
During my research of water fountains for cats, I found that there are definitely some potential benefits that come with their use. One of the biggest, in my opinion, was the fact that they may entice your cat to drink more often, which not unlike us, can lead to improved overall health. Traditionally, cats have a tendency to be naturally attracted to running water… have you ever seen your cat drinking from a tap… or at least trying to?? So, with this goal in mind, I started looking for a suitable fountain.
Ironically, not long after I started looking, (it was like they knew!) I was contacted by Uahpet to test and review their ZERO Wireless Cat Water Fountain with Kyo… and needless to say… I was eager to do so! The fountains that I had been finding had a recurring safety issue that I couldn't get past… they needed to be plugged in! I don't know about you, but the idea of having to plug in a fountain, that my cat would be drinking water from, raised some concerns! I couldn't help but think that water and electricity doesn't mix well for us… why would it be any different for our feline friends? Thus, Uahpet's wireless feature was very appealing, but that wasn't the only thing that I liked about this fountain's design.
Meet the Uahpet's ZERO Wireless Cat Water Fountain.
Wireless Design
As mentioned, this was, by far, the biggest selling feature for me! With their cordless design there's no need to have it plugged in… meaning there is no trip hazards and most importantly, there is no safety risk of shock for your cat… or worse! It runs on a rechargeable battery – which is included – and means you don't have to replace batteries all the time. This also allows you to place the fountain anywhere that your cat(s) are likely to enjoy drinking water!
Tip-proof
The ZERO Wireless Cat Water Fountain has a 2L (67.6oz) tank which means you don't have to be constantly refilling your cat's water bowl. The wide base, and the retractable anti-spill brackets, makes it very stable and, quite frankly, I haven't seen Kyo spill any water yet! And believe me, he was a champion at spilling his water bowl! So this makes me very happy as I was tired of cleaning up the water spills!
FILTRATION SYSTEM
The ZERO Wireless Cat Water Fountain has a small carbon filter that helps to keep your cat's water clean and tasty… thus encouraging more drinking. I know I prefer my water after it's been through the Brita filter… your cat is likely going to prefer the filtered water as well!
two smart modes
Not only does your cat get filtered, clean water with the filter system, but they also get fresh flowing water with the two different smart modes – motion activated or time mode.
MOTION-ACTIVATED MODE
This mode senses movements within 2 meters and in a 120-degree area and turns on to ensure that the water is refreshed.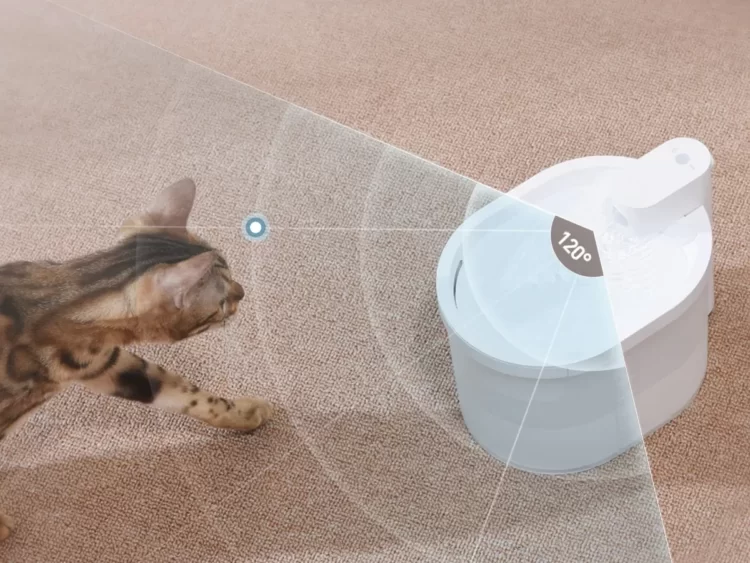 TIMER MODE
In the timer mode the fountain turns on and refreshes the water automatically every 15 minutes.
In Summary
This water fountain has been a great addition to Kyo's ever growing list of equipment. It's incredibly quiet, and if you happen to have a timid cat, they're not likely to find this fountain scary, at least not in the noise sense. It did take Kyo a few days to get used to it, but overall, he drinks much more from the fountain than his water bowl. Yes, I do keep both so he has a choice.
The battery is said to last up to 120 days. Now, we have not gotten anywhere near that and I suspect that it is due to the fact that I generally keep it on the sensor mode so that it turns on when Kyo approaches… thus giving him fresh, circulating water each time he drinks. The downside of me using this setting is that we live in a small apartment so the fountain is often running because it picks up on any movement … but all that means is that I need to charge it a little more often than what someone else might need to do. No biggie! I could perhaps change the location of it, but he likes it where it is! I just make a habit of charging it about once every week and a half. It comes with a USB cord for charging, but does not come with an adapter… so you would have to use one that you already have or purchase one separately.
It's easy to assemble, though it would have been great to have instructions in the box. There is enough information on the website to figure out set up should you need more assistance with images. Cleaning, so far, is simple and I am able to get longer filter life than what is recommended.
If you are looking for a fountain for your cat(s)… though if you had a small dog it would be appropriate as well… I would recommend checking out the Uahpet's ZERO Wireless Water Fountain.
Thank you to Uahpet for providing us with their ZERO Wireless Cat Water Fountain free of charge for review. I know Kyo would give it a 5-paw rating… I would give it a big thumbs up too! You can see Kyo's official review below on his Instagram account.
Want your own fountain? Click here and use KYO20 to get 20% off!