MY NAME:
Ollie
OTHERWISE KNOWN AS:
"Ollie-Dog" and "Fuzz-Fuzz" … but I pretty much answer to everything… especially if food is involved!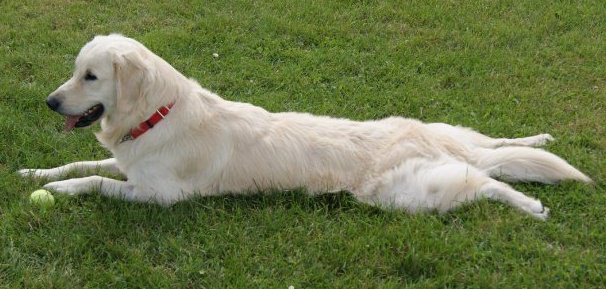 THINGS I LOVE:
I love the water… food… toys… snow… people… in particular my human "boy"… other dogs… cats… toys… oh wait, I think I said that already! Sorry… when it comes to toys I really just kind of lose my mind! See… it's not just my toys, but my sister's toys… or any toy anyone or anything is playing with! Same goes for food too! If it's food… it's mine! Don't get me wrong, I do have some self-control, just not a lot!
THINGS I HATE:
The car isn't high on my list… and I don't like being alone which is why being a service dog is so cool! I get to go pretty much everywhere with my people.
MY FAVORITE TOY:
"Soft" is my favorite toy! I think Soft was a people toy but is a Golden Retreiver – like me! – and it looks just like my sister, Jorga. And playing with my sister… outside of being with my humans… is the best! I love to have a fun play session with Soft and then curl up together! Soft is so… well… soft! I also have a cool Giraffe toy… and a Moose… and a Platypus… and a… oh, let's just say I love my toys! I have to keep them away from my sister though cause she will, well… let's just say they wouldn't live very long in her care!
MY FAVORITE FOOD:
Bananas and popcorn.. though not together! I do have standards! With popcorn – I have even learned where the popcorn cupboard is and get excited every time one of my humans opens that door! Oh… the joy! I hear the pop, pop, pop, pop, pop of popcorn and it makes me want to POP!
MY FAVORITE PLACE:
Wherever my people are! Though I do have a preference to be lying on top of my people. I am not sure why I love that so much but it usually makes them make this load noise… something like "oooof" (it's almost a bark sound)… and then they laugh… and I love the sound of laughing!
MY MOST EMBARASSING MEMORY:
That's a tough one. I am pretty comfortable with everything, but it was probably one of those times that my human's put this thing on my neck that made me not be able to see or move around real well… I know I looked really strange… and I used to walk into the door frames alot! I think I remember someone calling it a "cone of shame"… how about a "cone of embarrassment"?
MY FAVORITE MEMORY:
Definitely going to school with my boy… then, coming home with him… then hanging out with him… and sleeping on his bed. Hmmm… guess that is kinda a theme. He's kinda grown up now but I still love to spend time with him. And… he sneaks me food too!